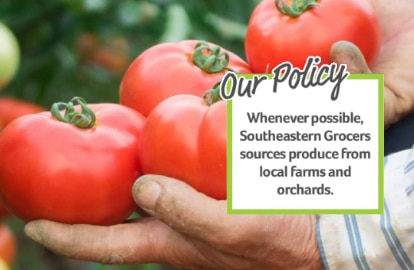 Local Sourcing Policy
|

Fresh Produce

Our home in the southeast is a beautiful, living garden and we treasure all that it has to offer our customers. With more than 90 years of experience in the southeast, we know how to pick the freshest produce, with the best flavors, and at just the perfect time of year.

We embrace our great responsibility to our customers, our associates and our environment when sourcing our fresh produce. Whenever possible, we source this produce from local farms and orchards, giving our customers an opportunity to support other members of the local community.

We partner with the families and farms that have harvested the land for generations, because they know what our customers love and share our commitment to stunning quality.
Standards:
We work with our growers to provide a high standard of fresh produce planting, growing and harvesting. All of our produce is inspected by our growers, by our distribution centers and by our stores to provide the best quality product we can for our customers.

Southeastern Grocers' organic products are sourced from certified organic farmers who follow the United States Department of Agriculture (USDA) guidelines for organic farming, ensuring their crops are grown without synthetic herbicides or pesticides.