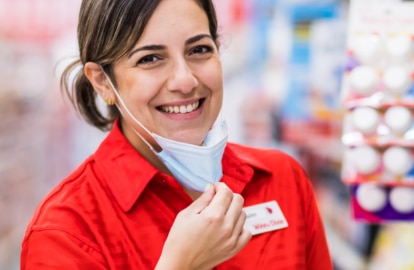 SEG Own Brand Packaging Policy
We asked our customers, associates, and community members to share their top sustainability concerns. We heard a resounding: sustainable packaging. In response, we are working with our supplier partners to work towards industry established sustainable packaging goals.
To begin this new partnership, SEG will start adding How2Recycle to their Own Brand product packaging to help educate customers on how to best recycle the packaging and prevent more material from going to the landfill. Therefore, we commit to the following goals and timelines for Own Brand packaging:
Eliminate polystyrene packaging by the end of 2028.
Have an average of at least 30% post-consumer recycled content in all packaging by the end of 2028.
All Own Brand packaging will be reusable, recyclable, or industrially compostable by the end of 2028*.
Provide clear recycling communications on 100% of Own Brand packaging by the end of 2028**.
You can always count on us! We mean always, whether that's tomorrow or in 40 years. Part of being a grocer that you can always count on means supporting the transition to more sustainable packaging. Since Southeastern Grocers' Own Brand packaging is just one link in the packaging value chain we will work with manufacturers and other stakeholders to help ensure materials stay in use and avoid the landfill.

*while maintaining food safety and product integrity
**where space allows