Community
---
Company Wide Community Involvement
SEG Gives is the charitable arm of Southeastern Grocers, parent company of BI-LO, Fresco y Más, Harveys and Winn-Dixie supermarkets and the Southeastern Grocers Foundation, a 501(c)(3) entity dedicated to supporting the communities we serve and the causes that impact our customers. SEG Gives aligns our giving with our charity pillars, providing support to the causes that are important to the communities we serve. We fight hunger in our communities and provide relief to those affected by a natural disaster.
Fighting Hunger
Southeastern Grocers is committed to fighting food insecurity in our communities through our Food Rescue and Bread Donation programs, in partnership with Feeding America, the nation's leading domestic hunger-relief charity.
In 2017, we donated over 23 million pounds of food – which is more than 19 million meals for food insecure families in our community.
We've launched our Bread Donation program, which allows customers to join us in the fight against hunger. For an entire year, we are donating five cents to Feeding America for every loaf of SE Grocers sandwich bread sold. Simply by shopping with us, customers can share our commitment to the community.
Helping Communities in Need
Southeastern Grocers has a long-standing partnership with the American Red Cross, spanning more than 50 years of donation totaling more than $10 million dollars.
SE Grocers Launches Community Bag with a Giving Tag Program
The reusable bag program empowers customers to make a difference in the communities they live and work in while helping the environment. With each purchase of a reusable Community Bag with the Giving Tag, customers can direct a $1 donation to the non-profit of their choice to benefit the work a local charity is doing in their community. The specially designed reusable bags are from recycled materials, and can be found at registers and on the reusable bag rack at all BI-LO, Fresco y Más, Harveys Supermarket and Winn-Dixie grocery stores in the Southeast.
Learn More
LOCAL SOURCING
Local Sourcing Policy
| Fresh Produce

Our home in the southeast is a beautiful, living garden and we treasure all that it has to offer our customers. With more than 90 years of experience in the southeast, we know how to pick the freshest produce, with the best flavors, and at just the perfect time of year.
We embrace our great responsibility to our customers, our associates and our environment when sourcing our fresh produce. Whenever possible, we source this produce from local farms and orchards, giving our customers an opportunity to support other members of the local community.
We partner with the families and farms that have harvested the land for generations, because they know what our customers love and share our commitment to stunning quality.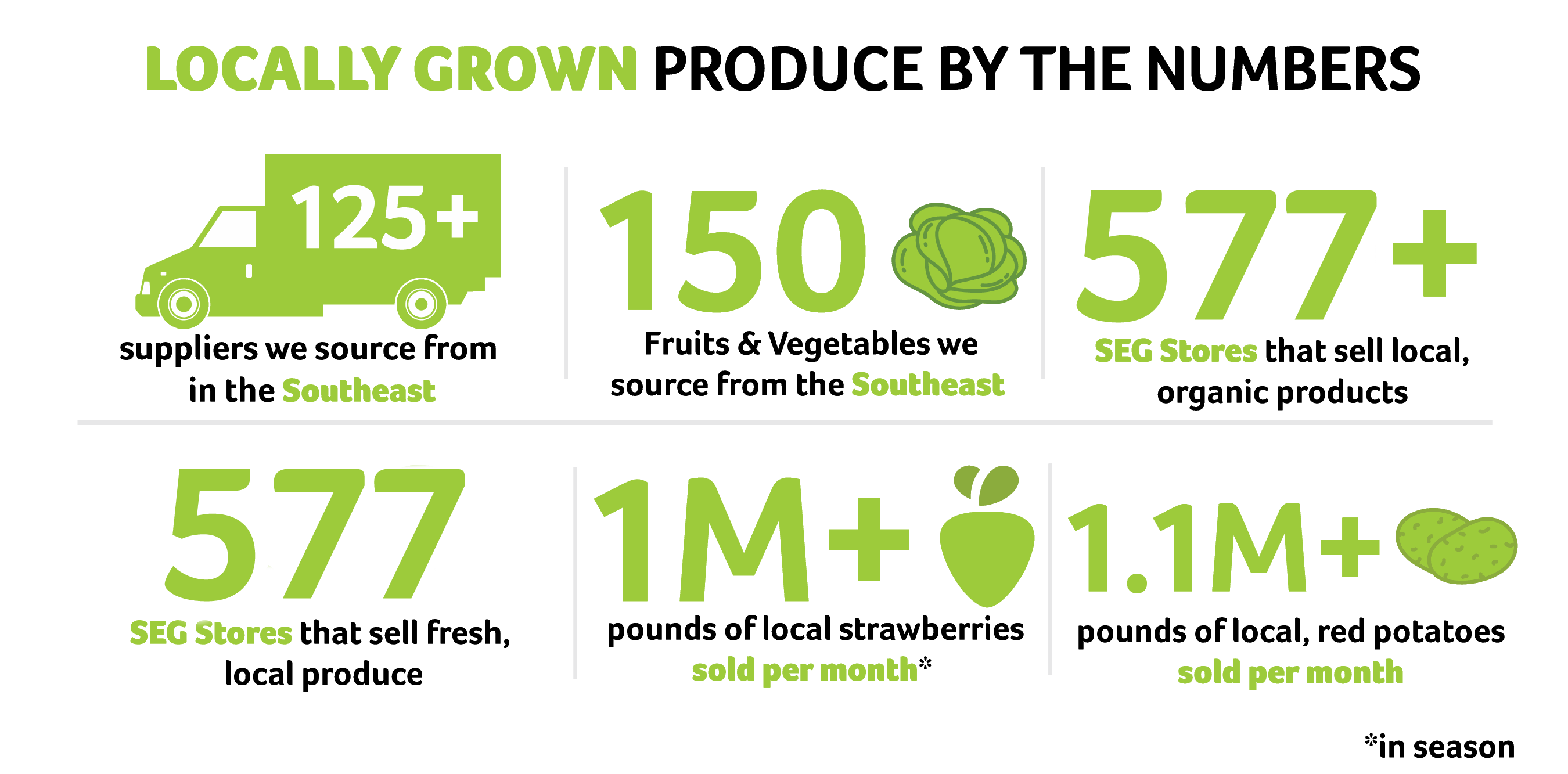 We work with our growers to provide a high standard of fresh produce planting, growing and harvesting.
All of our produce is inspected by our growers, by our distribution centers and by our stores to provide the best quality product we can for our customers.
Southeastern Grocers' organic products are sourced from certified organic farmers who follow the United States Department of Agriculture (USDA) guidelines for organic farming, ensuring their crops are grown without synthetic herbicides or pesticides.

Download the Policy Information
Cage-Free Eggs
Our Commitment to Cage-Free Eggs
At Southeastern Grocers, we firmly believe that animals raised for food should be treated and cared for humanely.

In 2016, we made a pledge to convert all of our own brand eggs to cage-free by 2017. In fact, we were one of the first grocers of our size to make such a big commitment.

We're very proud that we fulfilled that promise and now we're working towards making all our eggs cage-free by 2025, with the cooperation of our supplier partners.

This is important to our customers and it's important to us, so we continue to cooperate with well-respected organizations and experts in the field to ensure that we're setting a high standard for best practices in our animal welfare policies.

For your convenience, we offer our Naturally Better cage-free eggs in a broad range of our most popular quantities and specialties:
Dozen
Organic Dozen
Hard Boiled (6-Count)
18-Count
Supplier-Partner Standards
At Southeastern Grocers we are committed to providing you humanly raised cage-free eggs. Our suppliers abide by either of the following standards:
Humane Farm Animal Care Standards
American Humane Certified - Cage-Free Standards - Download