2024 Summer Internships at Southeastern Grocers
Southeastern Grocers is looking for highly motivated, organized and creative interns for our exciting 2024 summer program at our Jacksonville Store Support Center!
Our summer interns will have the opportunity to learn, grow and contribute to our people-first grocery retail business. Our summer interns work with leaders from across our organization to plan and execute their own projects that will directly contribute to the success and growth of Southeastern Grocers!
Our program offers personal and professional development opportunities, leadership networking, volunteer work, team-building activities and you'll make life-long friendships with fellow career-minded interns.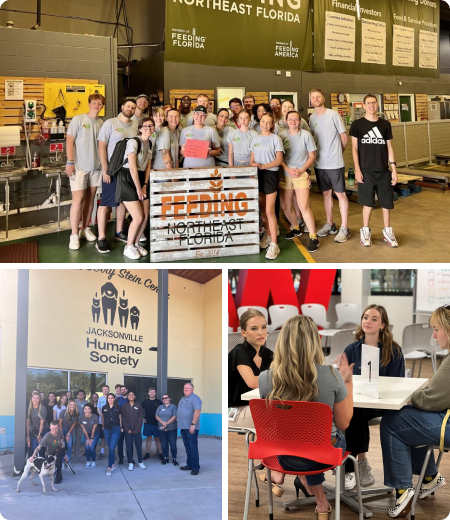 The Deets
An in-person, paid 12-week program, starting in mid-May, at our Jacksonville, FL Store Support Center.
Stipend offered to all interns.
Our summer internship program is geared towards rising college juniors and seniors with a GPA of at least 3.0.
Our 2024 program includes projects from across the business, including:
Accounting/Finance
Communications
Human Resources
Information Technology
Marketing
E-commerce
Merchandising
We encourage you to apply here! Once you've submitted your application, our Talent Acquisition team will follow up with you.
We appreciate your interest in a winning summer internship opportunity at Southeastern Grocers where Winning Happens Here!
If you have any questions regarding our summer internship program, please reach out to Romy Pizziconi, Sr. Manager of Culture and Recognition, romypizziconi@segrocers.com.